Aw, one of the many things that connects us all around the world: surveillance. *insert cute emojis*
As organizers on the ground, many of us are constantly working on trying to build out global solidarity, transnational networks, and borderless collaboration. And yet, "terror tech" has beat us to it. Tested on Palestinians by Israel and sold to India's occupation of Kashmir, or skill-sharing between local US police forces facial recognition surveillance of working-class Black communities and communities of color with facial recognition software enabling the Chinese internment camps of millions of Uyghur Muslims in Eastern Turkmenistan (also known as Western China), a borderless world has already been created: it's just online and in government databases around the world.
But I don't want to terrify you; I'll let the readings and additional resources do that — I do want to quickly say a few words about why we here at #BecauseWe'veRead have decided to focus on this unit today. Tech developments are inevitable, but surveillance, surveillance capitalism, and intrusive tracking are not. We can live in–and even celebrate–a tech-driven world without submitting to the wills of power. It's not "normal" for google to be able to track your every move, for Amazon to detect your accent and record your conversations when Alexa is supposedly "off", or to step outside to a forest of cameras watching you, even if you "have nothing to hide."
This is about not allowing corporations, along with their (highly profitable!) collaborations with structures of power, to set the conditions for who has control and access to our bodies and the intimacies of who we are, and in doing so, cataloguing, organizing, controlling, and criminalizing our everyday lives.
Terror tech and surveillance capitalism is terrifying, and you may even have to put the books down a few times to take in what you're reading, but it's not permanent–if we don't want it to be. This unit we're also sharing the work of and talking to organizers, activists, hackers, and creatives who are resisting the surveillance states many of us call home.
Finally, as tech is most definitely the exponentially growing future, I cannot really stress how important this unit is. This is not going away unless we understand it, understand why it is inherently unjust, how we can protect ourselves and communities, and resist on a global scale.
On that note with this unit we're also launching two companion projects: a Digital Safety Worksheet to keep you and your communities safe, and a Global Surveillance Database, where we're inviting you to document surveillance in your cities and share it with us as part of a community-compiled virtual database connecting the brands and equipment occupying our neighborhoods around the world. More on both of those projects below.
For this conversation, we're so thrilled to be joined by a #dreamteam of some of our favorite scholars, activists, artists, and hackers fighting to keep us all safe at the intersections of surveillance, anti-Blackness, capitalism, the war on terror, and the carceral state.
Join us for a conversation with Simone Browne, scholar and author of Dark Matters; Assia Boundaoui, award-winning filmmaker and director of The Feeling of Being Watched; Freddy Martinez, Director of the Lucy Parsons Labs; and Sarah Hamid, activist with the Carceral Tech Resistance Network. | Watch the recording here
Activities / Projects
Did you really think we were just going to put out terrifying readings on surveillance and not give you info on how to keep you & your communities safe? This unit, we're taking the next step to make sure that our BWR community is staying safe and protecting their loved ones. We're launching two companion projects below that we recommend organizing with your friends or local BWR chapter. We keep us safe!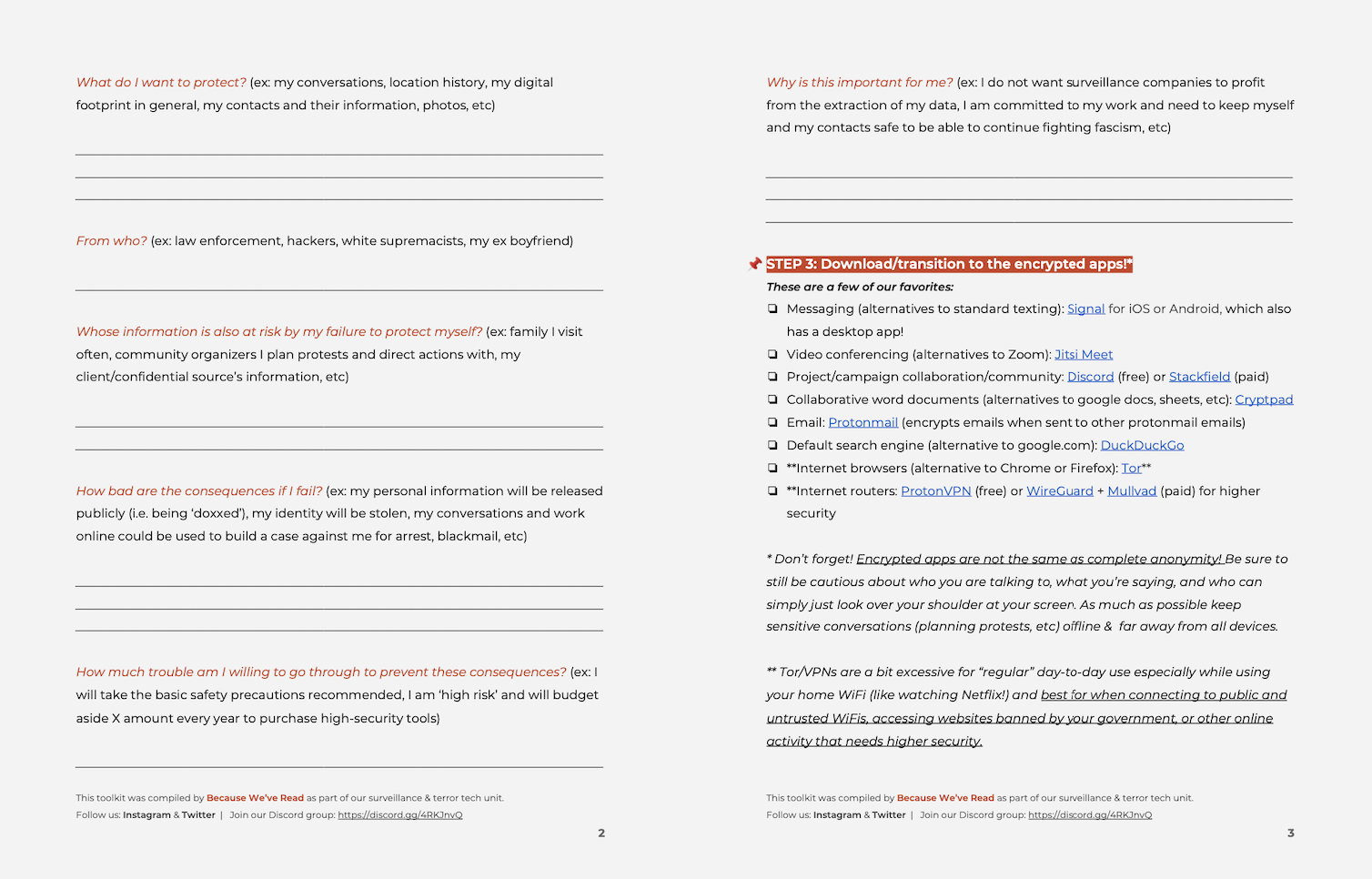 Whether you're organizing protests or just communicating with friends and family, keeping your (and your community's!) personal information safe from hackers, state surveillance, the far-right, and other threats is vitally important. We're only individually as safe as the most digitally vulnerable person in our networks. 
Download the 5-page checklist & worksheet and host a digital anti-surveillance party with your friends to go through it all together!
*p.s. this worksheet is totally free of course and we're not requesting that you join our email list to access it, but let us be frank: social media's increasing censorship of radical content that we release will only appear lower and lower on your timelines, if at all. We encourage you to sign up for email updates so you can make sure you have a copy of everything you need right in your inbox when we release new units and projects! 
2. COMMUNITY-COMPILED GLOBAL SURVEILLANCE DATABASE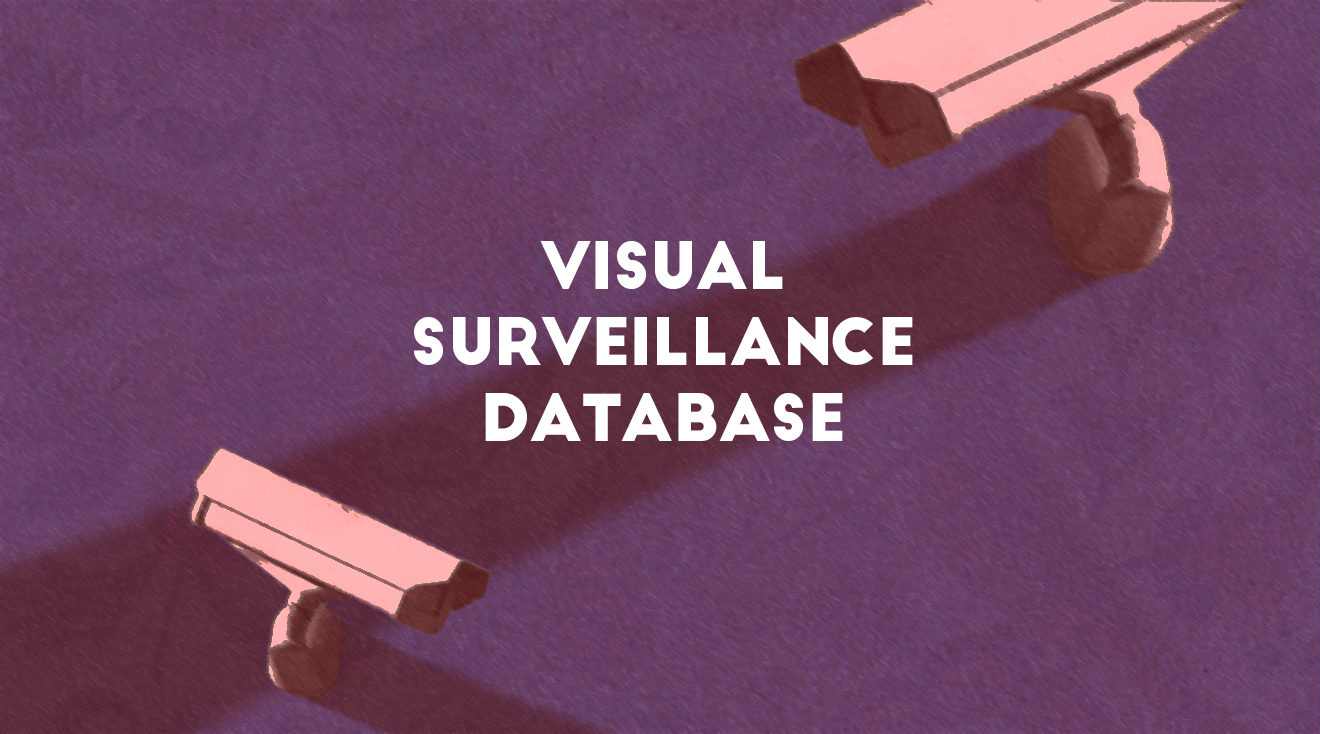 The title here is pretty self-explanatory: we're watching back the watchers, globally. We've already learned how interconnected surveillance technologies–and the companies that produce them–are connected across borders, so we too should follow their transnational lead and collaborate with each other to watch, document, and catalogue the surveillance of our communities.
We're asking our global BWR community to document the surveillance in our neighborhoods, on our commutes to work, and all around us: snap a photo of the surveillance cameras or microphones, note any brands or companies you can see, and upload it to our encrypted and anonymous submission form along with city information. We'll be cataloguing all the photos on a public virtual gallery where we can start connecting the dots–and cameras–between our neighborhoods around the world, from Hebron, Palestine to Nairobi, Kenya to Chicago, USA.